Chris Saxby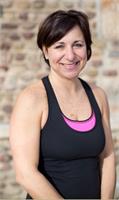 Chris returned to the workout world in 2006 after raising 3 children and experiencing the ups and downs of life. She decided to take the "Beat the Genes" approach in keeping in shape and being more conscious about healthy choices.
She made the "move" to the Studio in 2011. Began taking classes and had the opportunity to substitute Spinning and Strength classes. One of the things she loved most about StudioMOVE! is being able to interact with each member and getting to know each of them by name.
Certifications include:
LesMills Body Pump - June/2013
Tabata Bootcamp - January/2014
She lives in Bloomfield with her husband Bif. She enjoys spending time with her family. She is also also an office manager and cosmetologist. In her spare time her hobbies include snowmobiling, skiing, golfing, boating, bicycling, softball and basketball.
Chris Saxby instructs the following:
45 minutes of cardio. going through various interval training will certainly raise your heart rate as well as burn many calories.

5 reservations minimum required to guarantee class is offered. Sign up by 9 pm day before. Reserved spots that are no shows will be charged $5. Numerous no shows by an individual will result in suspension of your reservation privileges.




Rock hard abs in an efficient 40-45 minute workout using flexible tubing, light weights. Sometimes adding tabata intervals this class will be sure to work you to the max.