Chris Saxby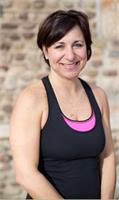 Chris returned to the workout world in 2006 after raising 3 children and experiencing the ups and downs of life. She decided to take the "Beat the Genes" approach in keeping in shape and being more conscious about healthy choices.
She made the "move" to the Studio in 2011. Began taking classes and had the opportunity to substitute Spinning and Strength classes. One of the things she loved most about StudioMOVE! is being able to interact with each member and getting to know each of them by name.
Certifications include:
LesMills Body Pump - June/2013
Tabata Bootcamp - January/2014
She lives in Bloomfield with her husband Bif. She enjoys spending time with her family. She is also also an office manager and cosmetologist. In her spare time her hobbies include snowmobiling, skiing, golfing, boating, bicycling, softball and basketball.
Chris Saxby instructs the following:
"BODYPUMP™, the original LES MILLS™ barbell class, will sculpt, tone and strengthen your entire body, fast!

Great bodies aren't born, they are transformed, using the proven BODYPUMP™ formula: THE REP EFFECT™ a breakthrough in resistance workout training. Focusing on low weight loads and high repetition movements, you'll burn fat, gain strength and quickly produce lean body muscle conditioning.

BODYPUMP™ is one of the world's fastest ways to get in shape as it challenges all of your major muscle groups while you squat, press, lift and curl."




Get your cardio burst in the first 30 minutes of class with a variety of easy to follow moves to get your heart rate up. Make it hi or low impact. A variety of props will be used to keep things fresh.

A 30 minute LesMills BodyPump segment will round out this full body workout.

Please reserve your spot online so we can be all ready for you!